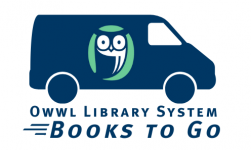 Books to Go provides bulk lending to agencies serving or housing older adults such as nursing homes, assisted living facilities, and senior apartments in Ontario, Wayne, Wyoming, and Livingston Counties.
---
About Books to Go
Books to Go deliveries are made every six weeks and can include up to 50 items.
The following materials can be checked out through Books to Go:
Large Print Books
CD Audio Books
Music CDs
Puzzles
Handheld illuminated magnifying glasses
Materials will include a variety of authors, genres, and topics based on preferences indicated on the Books to Go Application. Specific titles can also be requested.
Become a Partner
Click here for a printable application
Be sure to select "Fit to printable area" in your print settings.
Submit completed paper applications to:
Books to Go
2557 State Rt 21
Canandaigua, NY 14424
Click here for a fillable application
Click here for instructions on completing and emailing the fillable program application
Submit completed fillable applications to: outreach@owwl.org
Each agency will need to identify a staff member, volunteer, or resident to manage communications with Books to Go, help facilitate materials exchanges, and monitor loans.
Contact
Phone 585-394-8260 x1106
Email outreach@owwl.org