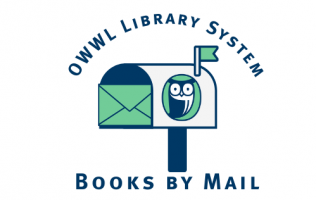 Books by Mail is a service that provides patrons access to library materials through delivery by U.S. mail.
---
Who can use Books by Mail?
Books by Mail is available to any resident of Ontario, Wayne, Wyoming, and Livingston Counties who is unable to access an OWWL Library due to disability, long-term or chronic illness, lack of transportation, or other difficulty.
What library materials can be checked out?
The following materials can be checked out through Books by Mail:
Large Print Books
Standard Print Books
CD Audio Books
DVDs
Music CDs
Jigsaw Puzzles
Handheld illuminated magnifying glasses
Portable CD players
There is limit of six items per mailing.
Who chooses the library materials?
Patrons can request specific titles, have Books by Mail staff select materials based on personal interest, or a combination of both.
How do the materials arrive?
Materials will arrive in a navy canvas mail bag to the address listed on the application. Materials will be returned in the same bag; a pre-paid shipping label will be included.
Enrolling in Books by Mail
Click here for a printable application
Be sure to select "Fit to printable area" in your print settings
Submit completed paper applications to:
Books by Mail
2557 State Rt 21
Canandaigua, NY 14424
Click here for a fillable program application
Click here for instructions on completing and emailing the fillable program application
Submit completed fillable applications to: booksbymail@owwl.org
Applications can be mailed to patrons upon request or taken over the phone. Applications are also available at the 42 public libraries in Ontario, Wayne, Wyoming, and Livingston Counties.
Contact
Phone 585-394-8260 ext. 1119
Email booksbymail@owwl.org
---
Books by Mail is a separate program from New York State Talking Book and Braille Library. Click here learn more about services available to eligible residents who are unable to use standard print materials due to a visual, physical, or reading disability.